Ready to transform your stress?
Moving through your daily routine, as you take on more and get less sleep,
can feel overwhelming and exhausting.
>> You feel tired because you don't get good sleep and suffer from hot flashes
>> You can't focus and often feel fatigued throughout your day
>> You are not at your ideal weight and can't seem to get on track
When you have all these symptoms, but don't know how to fix them,
you wonder if it's even possible to have energy or feel healthy in your body?
It is possible.
I can show you how, step by step.
But you have to take the first step,
believing you are worth the time,
and then getting some help from someone
who's been there and can show you how.
---
---
Kick Start 2020 Now
Don't waste the next 6 months trying to figure it out on your own.
Get a jump start on your year with a coach who can help you navigate your symptoms and the right food and movement to add to your lifestyle.

---
What People Are Saying
Dr. Liz formulated a treatment plan that addresses the cause of my inflammation, both genetic and environmental.
I consider Dr. Liz to be a teacher as well as a doctor. She addresses my concerns, mainly those about my genetic predisposition to chronic rheumatoid arthritis, and she has taught me how I might effect changes that will, and actually have begun to, influence how I feel. While her treatments have included lifestyle changes, homeopathy, nutrition, and acupuncture, she continually encourages me to become my own doctor."
— Amy H.

Dr. Liz really got to the root of the problems to help determine the best treatment plan.
When I went to see Liz, the first thing that struck me was what a genuine caring individual she was. She was concerned not only about my issues but about who I was as a person. She has helped me work through some very tough digestive issues that have plagued me for years.
I thought it was all in my head, and she has helped me find the answers to questions I have struggled with for a long time. She gives it her all in finding a solution, creates a good plan that you are comfortable with, while remaining approachable and excited about the process.
I would highly recommend her to anyone who wants to find a natural way to heal their ailments. If you are willing to do the work, she is willing to give it her all as a positive coach and healer."
— Kris B.

Pricing
Harmonize your Hormones: Transform Your Stress Guidebook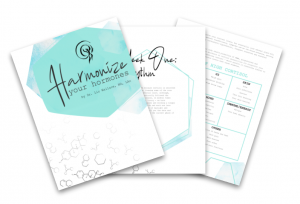 -Tips and tricks to help you feel balanced with less stress
-2 guided meditations to help you create a meditation habit
-30 days of  mantras to inspire and motivate
-Journal and workbook exercises to explore and create
-Free 15 Minute introductory call with Dr. Liz
to set your goals and put your plan in place